20+ years of the Web and we are still at the very beginning of understanding and implementing digitization. For the first time we are facing a generation that never got to know the offline world. By nature they are riding the wave without ever having touched the ground. We might have unlearned our ancestors' knowledge about materials and crafts, it's easy to overlook the intrinsic characteristics of the Web in favour of the newest framework or boilerplate.
Let's re-explore the material Web and evaluate what we have learned so far. Join us in Reykjavik, Iceland, for a trip through history, views and cultures.
Speakers
The conference will be a day long mix of presentations and fun little side-shows from both international and local speakers.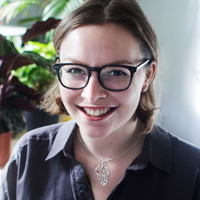 Charlotte Dann — Integration of artistry to the web
Charlotte Dann is a designer/developer based in London, working across a wide spectrum of disciplines ranging from electronics to fine glasswork; she has not yet found a craft she does not wish to master.
While undertaking an MA in Computational Arts she created Hexatope, a combination of her two central vocations of jewellery design and web development. Hexatope allows anyone to design their own jewellery by intuitively interacting with a hexagonal grid entirely in the browser. Designs are then produced in precious metal using 3D-printing technology and traditional metalwork.
Charlotte's going to talk about the integration of artistry to the web and how practical design techniques can evolve with computational thinking.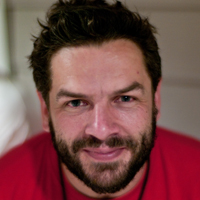 Matt Jones
Former Principal at BERG, now working at Google in London on various top secret projects as Principal Designer in Google Research & Machine Intelligence. Matt Jones' talk will look at some of the ideas around raw computing. If the Web were a material, he'd brute force his way to the best answer, maybe without even understanding how he got there — and that's OK.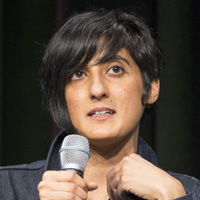 Nina Walia
Nina Walia is an Experience Designer for ubiquitous technology and emerging platforms. Currently, she is weaving technological experiences into interactive textiles and surfaces at Google. Her previous experience includes overseeing innovative, award winning designs intended to motivate, inspire, educate, and improve people's lives for Nike, GE, PBS, and the Office of the First Lady, Michelle Obama. Most recently, Nina was working as Experience Design Lead on Jacquard, a collaboration of Google and Levi's.
She holds four design patents for her work and has spoken about her craft at many renowned conferences, such as the Interaction Design Association's (IXDA) annual conference, South By South West, Games for Change, the International Conference for Interaction Design and Children, and the Asia-Pacific Broadcasting Union's annual workshop.
She is passionate about community organizing, and co-founded Subcontinental Drift, a nationally syndicated group to encourage South Asian Americans in the arts. She sometimes reminisces about her days as musician, record label owner, and DJ.
Get your ticket!
A journey of a thousand miles begins with a single step. We're getting organized and you should too. Start to book your travel plans now as flights and hotels may be at a premium closer to the event.
The Web as a material
For centuries we've worked with wood, metal, glass, ceramic, paper, textiles. More recently, new materials have emerged; plastics, fiberglass, silicon, and more. We understand their limitations, their affordances. We can fold, heat, manipulate and warp some of these materials. But the Internet and the Web are still very new to us. We don't fully understand them as a material.
What does this mean for the Web? What are the properties of the Web as a Material?
We have lost the apprentice / master relationship in the digital world. Spending years getting our hands dirty with an expert, learning slowly and really understanding the material rather than the framework. We need to be asking ourselves what sacrifices should we be making for the convenience of our customers rather than shortcuts for ourselves.
What properties of materialness exists in the Web is what this conference is meant to explore.
Visiting Iceland Slack Team
To help you planning your stay in Iceland, we've set up the Visiting Iceland Slack Team where you can meet other attendees, exchange experiences and team up with others to find shared Airbnbs, hotel rooms and similar. To request an invite to this Slack team please enter your email address below: